What are "Scrappykins"?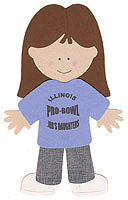 Scrappykins are customized scrapbook cutouts, little "kins" that become the "stars" of any scrapbook page! We LOVE to make highly customized and detailed scrapbook cutouts, and you will love using them to make really WOW!!! scrapbook pages!
If you want to create a really personalized scrapbook, Scrappykins custom scrapbook cutouts are the perfect solution. We have scrapbook cutouts in a wide variety of styles, each fully customizable to meet your needs. You can choose your own hair style, hair color, or even a dress or other clothing that matches your needs. Just send us a photo, and we'll create a customized Scrappykins to your specifications.
We specialize in creating the customized paper cutout creations that you want and need for your scrapbooks, but which are often difficult to find. If you belong to a club, organization or other kind of group, we can make custom scrapbook cutouts to match your specification. Just think of how great your scrapbooks could be with these cute and highly customized paper cutouts.
If you need an effective fundraiser for your organization, Scrappykins would be happy to help. Just think how effective your fundraising efforts could be with scrapbook cutouts designed specifically for your organization. If you are planning a fundraiser and could use some assistance, please e-mail us today.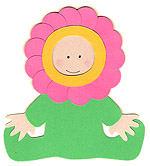 Scrappykins custom scrapbook cutouts are the perfect addition to wedding, graduation, sports, prom, new baby, and other special occasion scrapbooks. They are also great for designing customized holiday pages that will really make your scrapbooks stand out from the crowd. We can customize your scrapbook cutout to match your prom dress, your child's first Halloween costume, or create graduation cutouts with your school colors. We also make Scrappykins cutouts for any profession. We can even match your uniform for a customized touch. You can also get Scrappykins customized to match your favorite pet.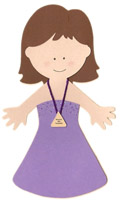 In addition to Scrappykins cutouts, we also have a variety of other papercraft creations that you can use to add spice to your scrapbooks. If you're looking for embellishments, pre-made scrapbook pages, or photo mats, we can provide you with customized creations that will really make your pages pop. We will also feature products that we like from time to time, and provide useful resources, tutorials and how-to information to make your scrapbooking more enjoyable. Regardless of what you want to create, custom scrapbook cutouts from Scrappykins can make your scrapbooks just a little more fun and personalized.
About Us: Our Beginning and Our Future
Scrapbooking has always been my passion for as long as I can remember. There is just something about getting my photos put on a page with the right accents and embellishments that just makes me so happy. However, I often found it difficult to find just the right scrapbook embellishments to give my creations a truly personalized touch.
When my grandfather passed away a couple of years ago, I spent a lot of time deciding if what I was doing in life actually made me happy. My grandpa was always one of my biggest supporters in everything I did. He knew I loved scrapbooking, and always thought I should find a way to expand my love of scrapbooking into a business. By doing so, I could do what I love, while also helping other people create great scrapbooks.
Scrappykins began as a way for me and my mom to put our talents together, and it has become a truly exciting adventure. We have made custom scrapbook cutouts for people all over the country, and have met many new friends along the way. I take great pleasure and pride in knowing that our Scrappykins creations are being placed in scrapbooks that will be cherished for years to come. In the future, I hope to find even more ways to make it easy for people to create the customized scrapbooks they've always wanted to make. Thank you for purchasing Scrappykins custom scrapbook cutouts. I hope they add a lot of pleasure to your scrapbooking experience.